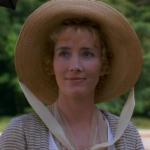 I took three different online surveys last night and each one of them said that as a Jane Austen Character I was Elinor Dashwood.
While all the other women in the Dashwood family are drama queens, Elinor holds them together on a daily basis with her calmness and practical good sense.
Not that she doesn't have an emotional side. She just has it under control. I'm a think before you speak kind of girl too. And I'm happy to be Elinor.
I have often pondered about Martha in the New Testament who was the good hostess in her home where Jesus was a guest. According to an article I read Mary and Martha
both
sat at Jesus' feet. (Luke 10:39) But when the guests were hungry Martha got up and put together a meal. Martha has a spiritual side too and sat at Jesus' feet as well as taking care of her home and the Savior.
Hooray for the practical girls.